SVC1
BLEEDING IMAGES Video (1982) .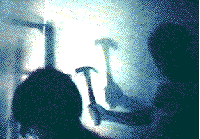 Science is a myth to which sacrifice is made both in terms of routine suffering inflicted by "research" and in the surrender of personal and temporary beliefs to a contrived and steadfast authoritarian consensus "reality". From cliterectomy and lobotomy to subliminal manipulation and slaughterhouse pornography, the Nocturnal Emissions throw back the images both direct and metaphorical that cajole people's consent to an exploitative system. Bleeding Images is unique in its selectivity and sophisticated independence of approach and brings together in one video package both music and visuals from their extensive campaign archive.
INCLUDES:
* BARBARIK SEX RITUALS
* BRAIN SURGERY
* SLAUGHTERHOUSE
* VIVISECTION
* GRAVEYARD DESECRATION
* EROTICA
* UNRELEASED STUDIO RECORDINGS
* UNUSUAL KONKRET FOOTAGE
AYERS: "You could say that it was my interest in experimental film that led me into making music in the first place. I had been making experimental and visionary films since I was about 12 years old.
"Nocturnal Emissions live shows often featured specially-made film and slide projections. We had a program set up of multiple films and slide projections, which grew to include multi-screen videos, which was quite a novelty in those days.
"Dominic Guerin and Colleen Forde, (who made the SPK autopsy and corpse desecration videos), persuaded me to put together a video release using their equipment. So in two weeks of intensive activity and with the help of some friends I put together Bleeding Images. It draws heavily on recycled NE live projections and lots of plagiarised footage. And, yes, you could say it was a mondo trasho, cobbled-together, no-budget, exploitation piece - down to the industrial-style bad spelling on the sleeve. It was made in the days before the UK government imposed draconian censorship laws on video makers. We were one of the first few music groups to release our own video, funnily enough, it sold a few hundred copies."
.

SVC 2
THE FOETAL GRAVE OF PROGRESS Video (1983)
AYERS: "The first version of this was a 16mm film that we premiered at an all-nighter at the Ritzy Cinema in Brixton for Election night, the second time Thatcher got in. There was a big screen live video display of the election results as they came in, over which we projected a distorted cutup of slaughterhouses, plastic surgery operations, nuclear explosions, wartime atrocities. We did a live show in front of it with miked-up toy beagles, vacuum cleaners, etc. The video is re-edited and colourised and has a different soundtrack."
Nocturnal Emissions videos were distributed in the USA by Fresh Sounds of Lawrence Kansas, a company owned by one of William Burroughs' assistants. Even the Good Times are Bad and The Foetal Grave of Progress were screened at British Film and Video 1980-1985, The New Pluralism at the Tate Gallery, Millbank, London, April 1985. They also went on national tour as part of an Arts Council show. Copies of these videos may be found in the archive of the Institute of Contemporary Arts in London.