SRC 1
STANDARD RESPONSE
Cassette tapezine (1979)

Leif Thuresson "Jag Vet Att Du Vantar"
Moving Finger "From Our Dog"
Lieutenant Murnau "I Left My Heart"
S.M. Andrews "In a Box"
Cultural Amnesia "Yellow Song"
Organbank "Nazi"
The Nocturnal Emissions "From Puberty to Senility"
MB extract from "COM SA"
Murderwerkers "Blue Funk" (Scars for E)"
Johnny Alien " Without Measurable Damage"
Loss of Head "Sophisticated Incineration"
AYERS: "My intention was to put out a multimedia release to bring together the output of a number of cultural workers I had been exchanging tapes and mail art with. This was in the days when multimedia didn't mean something to do with computers, it was an art term which could mean anything - in this case it meant a cassette and a photocopied document. Though I no longer have the original package, I remember the cover had a picture of the Russian SS20 missiles. This was at the height of the cold war, so it probably accounts for the bleak nature of the European contributions. It included contact addresses for all the participants.

"Leif Thuresson's track "Jag Vet Att Du Vantar" means "I know that you're waiting" and is a gloomy, Goth sort of number sung in Swedish. Moving Finger had the feel of the Residents, Devo, Talking Heads; that arty late-seventies kind of wave. Lt. Murnau was a multiple-user named group invented in Italy by Vittore Baroni. Lt. Murnau used exclusively already-recorded music - he was the forerunner of outfits like Negativland and the Tape-Beatles. SM Andrews is Caroline K performing under a pseudonym. Organbank were a German punk band. Johnny Alien is an old friend of mine who now performs in the USA as Big Bad Bollocks. Murderwerkers is a project by Geff Rushton , who I knew because he ran a fanzine called Stabmental. He was a young lad attending a private school at Oundle. He later joined Psychic TV, and changed his name to become John Balance of the group Coil. Cultural Amnesia is Geff and some other Oundle boys. I have no recollection of who or what Loss of Head was. And that is the first known Nocturnal Emissions track. Notice the "The" in "The Nocturnal Emissions"."

In November 1999 we received an email from Gerard Greenway:
Re the text on STANDARD RESPONSE (SC1) at the Sterile Records site, Cultural Amnesia were not Geff Rushton and some other boys, but myself, Ben Norland and John Peacock. We worked occasionally with Geff and Geff wrote three or four songs for us. The track on STANDARD RESPONSE ("Yellow Song") did not feature Geff.
Cultural Amnesia were active spring 1980 to spring 1983 and released three cassettes and were on four or five compilations. SC1 was the first, but I think the 1979 date given for the release must be wrong. It must have been 1980.
We reformed for a day in November of last year and recorded three new songs. Good fun. We sounded just the same!
SRC 2
THE PUMP "JUST WANT TO DANCE"
Cassette (1980)

Recorded live at Bath Academy of Art 30 May 1980.
22 minutes.
AYERS: The Pump was an experimental music group I'd formed in 1977, with my brother Danny and Ian Round. Lots of heavy bass and guitar distortions, cut-up tapes. We did 4 or 5 cassette-only releases - only about 30 copies of each. The first batch were copied at home onto the very cheapest tapes I could find on Brixton Market - you'd be lucky if you could get them to play more than once. Rough Trade bought them though, and that just encouraged me to seek out even cheaper ones for the next release. A few years later someone sent me a review Masima Akita of Merzbow had done of one of these tapes for a glossy magazine in Japan. I've no idea how he got hold of it. The line-up for this show was myself, Caroline K, Harry Turner and Jo Greenman.
"The Pump was way ahead of its time. Certainly way ahead of the students at this art school gig, who pulled the plugs on us after 22 minutes because they couldn't figure out how to dance to it."

SRC 3
THE NOCTURNAL EMISSIONS "DEATHDAY"
Cassette (1981)

Recorded live 23 May 1981 at the Cave, Corsham, Wilts.

AYERS: "The Corsham gig I did solo in a fantasy theatre environment made by the friends who'd booked us before, as The Pump, for the Bath Academy of Art show."

SRC 4
SPK "LIVE AT THE CRYPT"
Cassette (1981)

info follows

Nigel Ayers' interest in the altered perspectives created by mental illness led him to correspond with and later befriend members of the industrial music group SPK. This was a music group that took its early inspiration from (what turned out to be sensationalised media reports of) a socialist mental patients' collective based in Germany. AYERS: "In 1980 we were performing in a squatted railway arch in Atlantic Road, Brixton. There were riots going on at the time, a response to Thatcher's racist policing operations. The street outside was strewn with rocks and the burned out shells of cars, the end of the road was blocked by rows of policemen. We'd seen SPK perform a few weeks earlier in Heaven, a gay nightclub, where they'd turned strobe lights on in the face of the audience. Whether this was an SPK stunt, or Heaven's usual policy, I never found out. But we knew they were coming to see us in the railway arch, so in homage we'd turned strobe lights on the audience. I remember Graeme complaining in the pub afterwards that he thought he was going to have a fit.
"We became friendly and they invited us to play with them at the Crypt (also known as the Cryptic One Club), a youth centre in North London, at the height of their noisy period. I recorded the show on my Walkman, and I think it's the only live recording they ever allowed to be released. If you listen carefully you can hear me and my brother arguing over whether the Walkman's switched on or not.
"SPK went through a few changes and Graeme Revell is now a very rich and famous soundtrack composer for Hollywood blockbusters. A lot of his work can now be found in Jock's Video Club in Lostwithiel, which is a measure of success in anyone's book."
SRC 5
THE NOCTURNAL EMISSIONS "WHISKY"
Cassette (1982)

Recorded live at the Whisky a Go Go, London 23 May 1982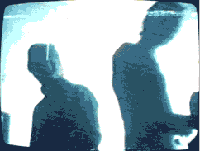 Nocturnal Emissions in Control,1982.
AYERS: "This was recorded in the place that was re-named the Wag Club, in Soho. The door staff were turning people away, telling them they would't like us. It was also memorable in that I had most of my record collection stolen that night."

SRC 6
LUSTMORD "LUSTMORDEKAY"
Cassette (1983)

Details - see Vinyl
SRC 7
NOCTURNAL EMISSIONS "DYSKINSIA"
Cassette (1983)

Delgado Monkey Torture
Too Many Wounded
Body Count
Going Under
Suffering Stinks
Bloodbath
Rabbits Don't Cry
We Are Getting Closer
Wee Wee Wee
Human Leeg
Mumbo Jumbo (From the Lie factory)
Theme Musik

AYERS: "Dyskinesia is an earlier version of Viral Shedding which was released through Illuminated Records, a larger independent company which had a small measure of clout. For a week or so you could hear Nocturnal Emissions on Radio One."
SRC 8
ALCHEMY
Cassette (1983)

Soundtrack from the Twinvision video release with:


Portion Control
SPK
Mark Pauline
P & R Rupenus
Andrew Hickinbotham
Test Dept
Robert
Die Todliche Doris
Nocturnal Emissions
Art Core
Walter Gramming
La Loora
Lustmord
AYERS: "Dominic and Colleen gave me the soundtrack, to release as a fundraiser for their video company. Despite being plugged by John Peel, they just weren't making the kind of money they needed.
"The video included a Chris and Cosey track, but this was pulled from the cassette release. Portion Control were a turn that supported Depeche Mode on their tour that year. SPK are in their Goth period. Mark Pauline is the famous San Francisco maker of self - destructing machine performances. The Rupenus Brothers are behind quite a few surreal records under different names, including the New Blockaders. The Andrew Hickenbotham track was a film of the Kray Twins' mother's funeral and I think the lad who did the soundtrack's now working as Funky Porcini. Test Dept are now very famous for their large scale metal-bashing performances at big arts festivals. Robert is a spoken word performer who was discovered in a hostel for homeless people. Die Todliche Doris (Deadly Doris, to you anglophones) play a medley of Sex Pistols hits on an accordian as small toddlers enact the tragic tale of Sid and Nancy. The rest of them I know absolutely zilch about."
SRC 9
NOCTURNAL EMISSIONS "LIVE AT THE ICA"
Cassette (1985)

Introduction
Hit and Run
Street Sounds
Revolution Baby
Power of Love
Never Give Up
Dear Marge
Sugar Can't Satisfy
No Separation
Aborigine

AYERS: "This was recorded at an event hosted by TV star Max Headroom, where apparently the Pet Shop Boys made their first public performance. I didn't see it, I had enough trouble trying to get on stage to do my act. The security guards were so stupid.
"This was Nocturnal Emissions performing as a "proper rock band" though we didn't use guitars at this stage. Caroline K was no longer around. Our Danny was on the Greengate sampler, Steve Tanza played drums and Fiona Harrold and me did vocals. We also had two circus performers standing on the speakers blowing fire; and a video display. The video display upset a drug-addled NME reporter, apparently because it featured a colourised Desmond Tutu!"
SRC 10
A JOYFUL NOISE
Cassette tapezine (1990)

Deerpark "For Once and Not"
Fear of Thought "Chaos Fusion"
Blackhouse "Stairway 2 Heaven (Version)"
Psyclones and Pacific 231 "Clairvoyant"
Nocturnal Emissions "The Mouth of Babes (Extract)"
Spanner thru ma Beatbox
"Meet the Living Sphinx of the Kamchatka Radioactive Volcano"
Sue Ann Harkey "Koto Tuning"
Xaliman and the Orchestrange "Radio Lark"
Equivalent Insecurity "Waspish"
Front Line Assembly "Ritualistic Seducement"
Club Dill Dough "Frank Heaven"
Collectif et Cie "Snow Games"
plus tracks with unknown titles by:
The Haters
FLETI
Plant Bach Ofnus
Webcore
Schuster
AYERS: "In 1986; to a chorus of disapproval from our distributors, I closed the Sterile Records label. I'd had enough of the medical and military metaphor and wanted to do something very different. I started the Earthly Delights label for "side projects" and continued with Nocturnal Emissions work with different labels. Four years later I decided to wrap the Sterile Records project up, like it had started, with another "international" compilation cassette.
"As far as I know, The Haters are still going and worth watching out for. Webcore mutated into Zuvuya who have recorded with Terence McKenna, and Trip - the best one-man electronics band in Cornwall."
This eclectic mixture of Underground currents included electro-acoustic music, Cornish psychedelia, Japanese noise and North American Industrial Rock.