B
east of Exmoor hunter Peter Bailey - who once spent three days caught in his own trap - has revealed fresh plans to capture one of the panther-like animals which many believe are preying on livestock in the Westcountry. Mr. Bailey hit the headlines when he triggered the door of his giant cage on the isolated moor while baiting it and had to survive by eating dead pheasants with which he had planned to snare the mystery beast.
But Mr. Bailey, who was eventually freed by a passing shepherd, said he was still determined to catch the animal, which he warns could soon kill a human. His cage trap -bated with fresh meat and set up in a likely spot - is designed to catch the animal alive. "I have been trying for years to capture the beast but so far it has been too clever." said Mr Bailey, of Colliepriest Dairy farm, Tiverton. "Over the years this large catlike animal has caused a lot of damage, killing our chickens and ducks. But it has evaded all my best attempts to snare it. "Only this week a member of my family woke to see the beast loping off with one of our cats in its mouth."
Western Morning News October 16th 1995
A
lthough it is said that Big Cat legends are traditional on Bodmin Moor, it is difficult to trace any references to these in the Cornish studies sections in local libraries. There are Big Dog stories of course linked to many places in the UK, onbe of which is famously recorded in the Sherlock Holmes tale
The Hound of the Baskervilles
, but let's not go mistaking dogs for cats. There are, though, a number of storybooks by the writer Derek Tangye on the subject of domesticated cats in Cornwall. There is another story by Antonia Barber, which has been shown as a networked TV animation,
The Mousehole Cat
. Set in the fishing village of Mousehole, this story tells of how fishermen at sea are meanced by the Great Storm Cat, a supernatural entity. They are saved by a domesticated pussy cat which flirts with the Great storm cat and somehow magically saves the day. This local tale is apparentlky celebrated each Christmas with a feast of Star Gazey Pie, a disgusting-looking recipe which has dead fish peering out of the piecrust.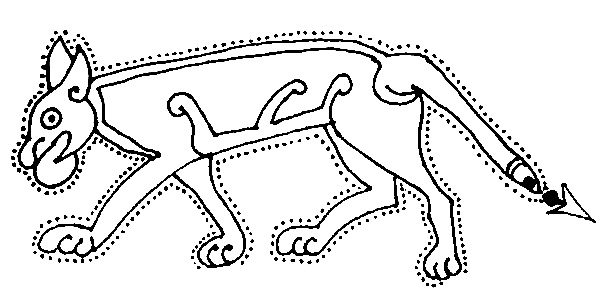 The Book of Kells Beast
L
ocal author Dr Tuesday Lobsang Rampa once published a book allegedly dictated by a feline companion. Rampa's first book
The Third Eye
Rampa's first book
The Third Eye
published around forty years ago was supposed to be the autobiography of a Tibetan Lama, The story began with his childhood schooling in a monastery, that culminated in the boring of a hole through the bone of his skull by which means he acquired the capacity to see the " auras " that emanated from everyone.
Sceptical detective work revealed that Rampa was in fact a plumber from Plympton, by the name of Cyril Henry Hoskins. This didn't upset his output of books, which have been very influential in the new age world. Mama San R'ab Rampa also known as Mrs Hoskins, writes of her life with Siamese cat-people in the books Tigerlily and Pussywillow. In the 1970s, Hoskins took employment as a clerk in a correspondence college in Wadebridge. There is a community centre dedicated to the royal poet laureate John Betjeman in Wadebridge, which is known for certain controversy over refusing access to the disabled. It is not known whether Betjeman and Rampa ever met up, but the former probably did as much to mystify the 'character' of Britain as the latter did of Tibet.