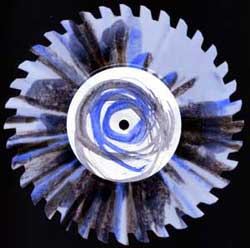 Nocturnal Emissions: ABC (Alien Black Cat)
Tesendalo: Spanferkel
Musical Tragedies TRAGEDY 050 7" single (1998)
Blimey. As a rule I find shaped discs to be a little pointless. At best a Geri Spice shaped record is only going to be as good as the music on it, which to these ears stands a chance of being characteristically "bang on" as Terry Thomas might have put it. At the other end of the scale, a certain silly group who shall remain nameless are sill boringly suspect purveyors of tedium despite releasing a record shaped like (groan) a German helmet - specifically of the kind found on heads (rather than in the trousers) of Second World War combatants.

Anyway, not only is this pressed on lovely splatter effect vinyl, but it's shaped like a circular saw. Very impressive! Furthermore, once the novelty of this has waned and you get around to playing the thing, the music is quite capable of holding up its end of the bargain. Nocturnal Emissions provide a short rhythmic piece, rich in atmosphere, and evocative of its vaguely Fortean Times subject. It reminds me a little of Muslimgauze, though I state this with caution as everything seems to remind me of Muslimgauze at the moment - even the new Cleopatra single (Life Ain't Easy, and what a cracker it is to be sure). Tesendalo (or Peter Schuster, if that rings any bells out there) provides a few intense minutes' worth of loosely ambient electronics, which doesn't remind me so much of Muslimgauze as of erů Nocturnal Emissions around the time of the Stoneface LP, which is no bad thing. So, whether your bag be brooding electronics, or colourful novelty items, this is recommended. Care should be taken when cleaning this disc with your dust removal thingy, which may end up chopped into small pieces. It's probably wise to watch your fingers as well.
War Arrow
Sound Projector 4 (1998)